Public Adjuster
Miami
Miami's Leading Public Adjusters that will help you accelerate and boost your insurance claims.
OR call us at anytime
(305) 707-8451
Miami Insurance Claim Services
How can we help!
Public Adjuster Miami, All PRO Adjusters can help you get the most comprehensive and extensive insurance claims that you deserve. Our licensed professional team of adjusters are here to help you with any type of insurance settlement you're claiming for
We are committed to facilitate and assist our clients whenever the need for insurance claim arises. We want to make sure that property owners get the best insurance settlement that they deserve in order to alleviate the stress and anxiety brought about by the situation.
Free Services. YES. Free until you get paid
Committed to help you maximize your insurance claim based on your loss
CALL US (305) 707-8451
Miami Claims Adjuster
Miami Based, Serving All Florida
Public Adjusters Miami understands the concerns and grievances of insurance policy holders. Our company is established to create a favorable mediation process that will ensure a fair and reasonable settlement between an insurance provider and a policy holder.
Our licensed team of public adjusters can facilitate the process of insurance claims for you. We can interpret and spell out your insurance policy to expand and boost your claims. You may get in touch with us anytime and you can count on us to address your concerns and queries regarding your insurance policy.
Public adjuster services in the Following Cities
Clients' Testimonials
Testimonials & Settlements
Our clients are always on the top of our priorities and we want to make sure that they are happy and pleased with our services and insurance settlements. See what our clients have to say about our team;
More Testimonials
Thessa D.
Assistance for: Mold Damage
"What I thought was impossible turned out to be an uncomplicated process. Public Adjusters Miami has changed my personal views on insurance policies. T..."
Initial: $8,200.00
Recovered: $185,000.00

Ritche D.
Assistance for: Water Damage
"Inquiring about their services was the best thing I did. They made it all seem so easy. They facilitated the entire process from start to finish; and ..."
Initial: $10,000.00
Recovered: $100,000.00

Gabriel X.
Assistance for: Roof Damage
"Public Adjusters Miami has a professional and reliable team. Their efficiency in their job has helped me get through the tough times. With their assis..."
Initial: $5,000.00
Recovered: $29,000.00

Denise S.
Assistance for: Hurricane Damage
"Filing for an insurance claim caused me a lot of disappointment and stress. I'm glad my friend suggested for me to call this public adjuster company..."
Initial: $20,000.00
Recovered: $148,000.00

Jenny B.
Assistance for: Water Damage
"Claiming for insurance coverage is not an easy process but Public Adjusters Miami managed to help me get the best out of it. What I thought is a rigor..."
Initial: $1,250.00
Recovered: $12,320.00

Tammy M.
Assistance for: Roof Damage
"I was spared from all the hassles of having to deal with a badly damaged roof because I decided to call the public adjusters right away. I knew it was..."
Initial: $5,000.00
Recovered: $32,000.00

Ryan B.
Assistance for: Hurricane Damage
"Seeking assistance from public adjusters has given me a great deal of convenience. Being a busy person, I don't have much time to deal with all the ..."
Initial: $9,000.00
Recovered: $82,500.00

How We Work
Discover How Miami's Leading Public Adjuster Works
Public Adjusters Miami is your top ally when it comes to your insurance claims. If you're facing difficulties in claiming for insurance, or you're not satisfied with the settlement being offered; allow us to facilitate and extend our services. We can negotiate on your behalf so you can have the most favorable outcome. Our services can help expand your insurance claims so you can get the most extensive coverage you deserve.
1.
Get in Touch With Us
Call our number or send in your message. We can offer assistance and helpful advice in your most convenient time. Public Adjuster Miami is committed to serve clients by answering all queries promptly. Contact us at (305) 707-8451.
2.
The Investigation Process
We would gather from you or a Miami real estate agent all the information that pertains to your insurance claim. Several questions will be asked to enable us to intensify your claim based on the extent of damages. Allow us to review and interpret your insurance policy and/or contract to identify all areas that can be explored. This will enable us to boost the settlement and come up with more favorable outcomes.
3.
Documentation and Claiming Procedure
To substantiate your claim, we would need to file a strong and evident-based case. We can do this by preparing the necessary documents that need to be reviewed by your insurance provider. It is important to fill in all gaps with sufficient evidences to ensure that your insurance provider will find no other means but to approve reasonable coverage. To strengthen your case, it may be necessary to submit a detailed assessment and total estimate of the damage furnished by credible restoration specialists.
4.
Claim Presentation
After securing all necessary documents, evidences and supplemental information, we would present your case to the insurance company. It is our job to help you get the most out of your insurance policy and to boost your entitlement for a reasonable coverage. Our expertise is more in tune with presenting the most important documents critical to every individual case. We want to make sure that every client gets a favorable and justifiable settlement.
5.
Settlement With Insurance Provider
The final stage marks the end of the ordeal. We want to make this process as victorious and as gratifying as possible to enable you to appreciate the relevance of having an insurance coverage. We, at Public Adjusters Miami, will make sure that you get a good and amenable settlement from your insurance provider. It is our job to mediate for your rights as a policy holder. Thus, we're always aiming for the best and most fruitful outcomes so we can celebrate with you on your victory.
The Public Adjuster Miami
Proudly Serving
Public Adjuster Benefits
Insurance Policy holders that contact and seek for the assistance of a public adjuster at no cost usually get a better settlement or approved settlement from a denied one. Cases vary depending on the property damage; but Miami insurance policy holders usually get significant improvement on their insurance settlement.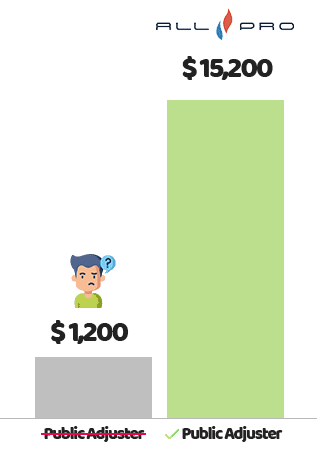 Our Latest Articles
We are working hard to provide you with a steady-stream of relevant and helpful articles.